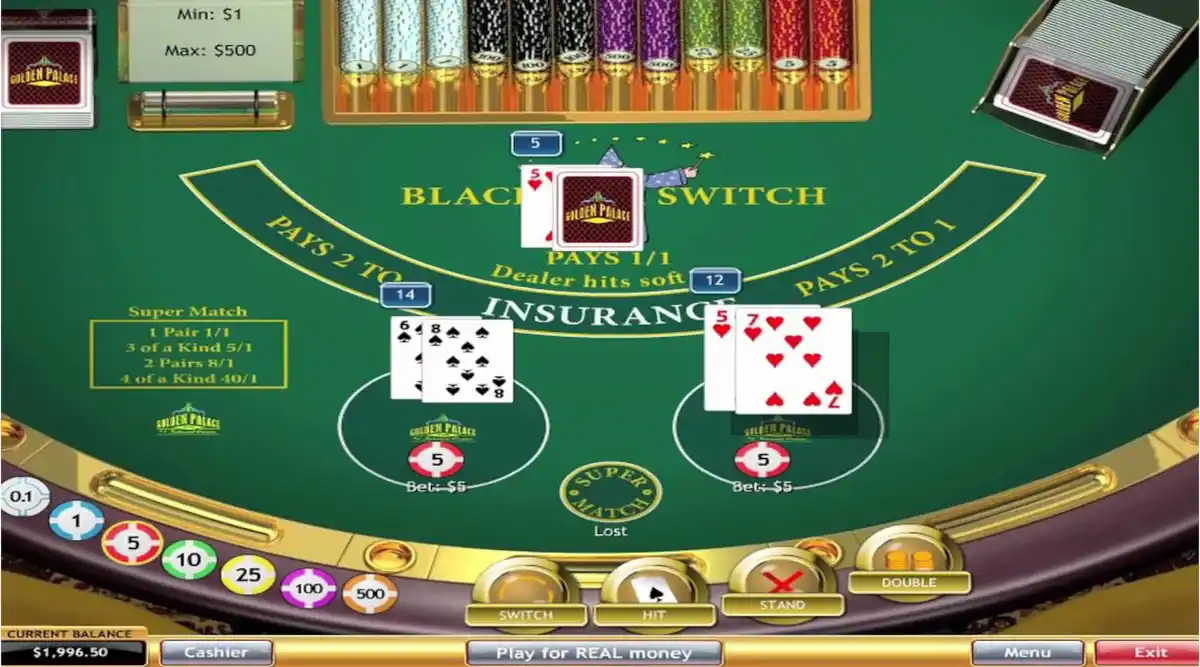 Discover the Exciting World of Blackjack Switch Rules and More
Get ready to delve into the exciting world of Blackjack Switch, a popular variation of the classic game that offers unique opportunities to win big. With our comprehensive guide on blackjack switch rules, you'll quickly pick up the basics and be ready to play in no time. Alongside Blackjack Switch, there are other thrilling variations like Casino Blackjack, Super 7 Blackjack, and Pontoon 21 to explore. Don't miss out on the fun – keep reading and join our casino to put your skills to the test!
Understanding the Basics of Blackjack Switch Rules and Other Variations
Blackjack Switch, developed by Geoff Hall, shares similarities with traditional blackjack, as well as other exciting variations like Spanish Blackjack, Pirate 21, and the classic Casino Blackjack. However, it features some key differences that you should understand before wagering real money. In this game, you play two hands instead of one, with the option to switch the top cards of your hands for a better combination. To start playing, you must place equal bets on both hands. Once the bets are placed, the game proceeds with varying deck sizes, depending on the casino. The online version of the game by Playtech shuffles six decks using a Random Number Generator (RNG) after each round. Both the player and the dealer receive cards face-up, with the dealer having a hole card. During the game, you can split your hands up to four times, but you must stake the same amount each time. When attempting to double your bet, you can do so after switching the top cards of two hands. It's crucial to note that a blackjack achieved after a switch is valued at 21, not as a natural blackjack. However, a natural blackjack will always beat a 21. In Blackjack Switch, payouts for blackjack are even money, or one-to-one, rather than the 3 to 2 seen in traditional blackjack rules. The peek rule applies if the dealer's initial card is an ace or ten, and insurance can be purchased with 2 to 1 odds when the dealer has an ace. It's common for the dealer to hit on a soft 17 but always double-check with the casino first. One unique aspect of Blackjack Switch is that if the dealer has a hand of 22, it's not considered a bust. Instead, it's a push, allowing you to get your money back if you don't bust and have a hand other than blackjack. This game has gained popularity worldwide, with variations like Blackjack Exchange in Austria and a Russian version with four or six complete decks, where cards are dealt face-up. Alongside Blackjack Switch, players can also find Spanish Blackjack Tips, Super 7 Blackjack, and Pirate 21 Guide at various casinos. Always check with the dealer or floor staff to understand the rules before placing your bets.
What Does the Dealer Do in Blackjack Switch and Other Variations?
In Blackjack Switch, the dealer needs a score of 22 to beat a total of 21 or fewer. This is different from other variations like Casino Blackjack, Pontoon 21, and Pirate 21. If the dealer has an Ace or ten as their face-up card, they will often peek at their hole card. If the dealer achieves a natural blackjack, they will beat you and everyone else at the table. For example, if you and another player both have a natural blackjack, you will be reimbursed. It's essential to familiarize yourself with the dealer's actions and the unique rules of Blackjack Switch and other variations like Super 7 Blackjack and Spanish Blackjack to increase your chances of winning.
Conclusion
Blackjack Switch rules may seem complicated at first, but with a bit of practice, you'll quickly grasp the unique aspects of this exciting game. By mastering the rules, you can boost your winning potential and enjoy a thrilling gaming experience. Don't forget to explore other popular variations like Casino Blackjack, Pontoon 21, and Pirate 21 to expand your blackjack knowledge and skills. In addition to Blackjack Switch, you can also find valuable Spanish Blackjack Tips and strategies for other variations like Super 7 Blackjack and Pontoon 21. The key to success in any blackjack game is understanding the rules, practicing, and implementing effective strategies. Don't wait any longer – join our online casino, and try your luck at Blackjack Switch and other exciting blackjack variations today!
Get the latest casino news by joining our exclusive community on Vegas Aces Casino's social media, and tag someone who needs to see this!
More like this: