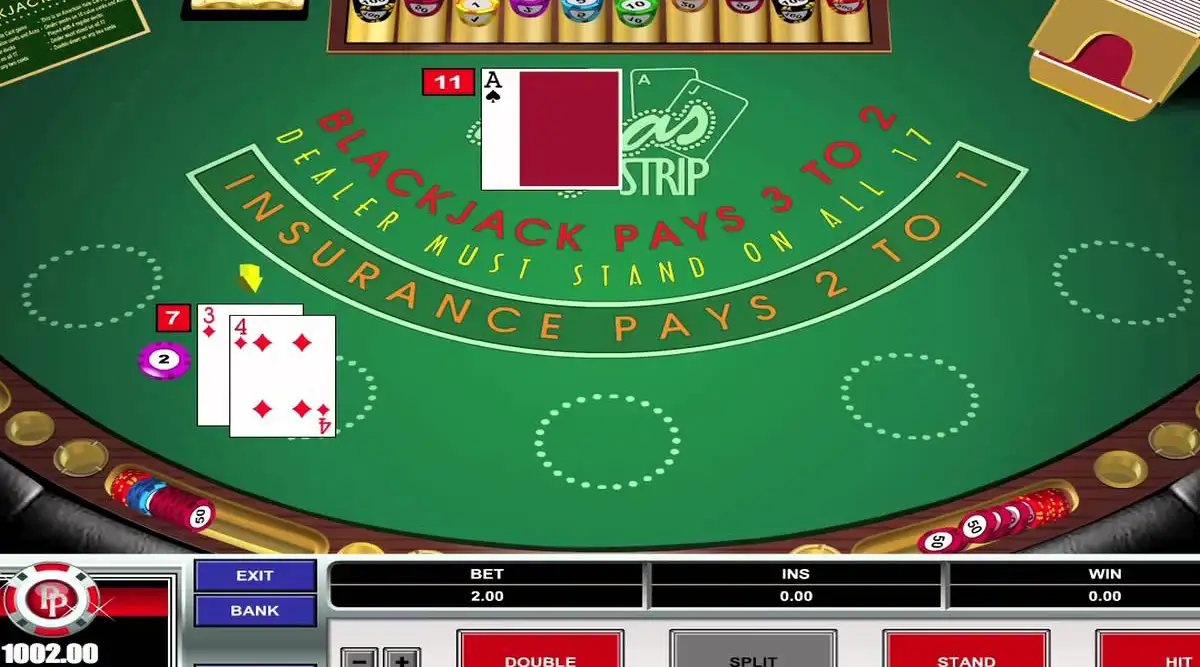 Vegas Strip Blackjack has been gaining popularity among blackjack enthusiasts, thanks to its unique rules and techniques. This variant, named after the famed Las Vegas Strip, offers a more player-friendly experience than its European counterpart. Discover why this game has captured the hearts of players worldwide and try it at your favorite online casino today!
In this casino news, we'll explore the intricacies of Vegas Strip Blackjack, including its variations, rules, and strategies. Get ready to improve your skills and join our online casino for an unforgettable gaming experience!
Vegas Strip Blackjack: Unraveling its Excitement
Vegas Strip Blackjack follows similar rules to American Blackjack in terms of payouts and methods but with a few key differences. The objective remains the same: beat the dealer with a hand that has more points without exceeding 21.
One of the main distinctions between Vegas Strip Blackjack and other blackjack casino games is the dealer's "peek for Blackjack" when a ten or Ace is displayed as an upcard. This is done when the dealer holds a high card. Most online casinos now offer this variant, sometimes called "American Blackjack" or simply "Blackjack."
Playing this game involves using between four and eight decks of cards, shuffled before being inserted into the shoe. Minimum bets in Las Vegas casinos typically start at $5, while most casinos allow floor wagers of up to $500 for high rollers.
Multiple online casino reviews will point out which casinos have the game available for you, as well as other characteristics of the gaming experience that you could learn from.
Mastering Vegas Strip Blackjack Strategies
Understanding the specific rules for both dealers and players in Vegas Strip Blackjack is essential for success. While some blackjack books may teach you on a long-term basis, let's break down the rules for each:
Rules for the Dealer:
Dealers often shuffle four or eight decks of cards.
They each receive two face-up cards, one face-up card, and one face-down card.
If the showing card is an Ace, the dealer will offer insurance as a side bet.
The dealer must hold an Ace or a card with a value of ten in his hand to peek for blackjack.
When the dealer has a soft 17, they always stand on that hand.
Rules for the Player:
Players can double down on any hand.
A game may be split into up to four hands simultaneously, as long as no double down occurs after the split.
Players can double on any total they like, but they must consider whether this is the wisest decision.
Players can split 10-value cards, even if they are not identical, such as a King and a Jack.
Each Ace may be split only once, and only one card may be used to split Aces. Generally, this game does not allow you to surrender. Read more about Blackjack surrender in our online casino guides, available to you 24/7.
Remember, 21 on split aces is not considered a blackjack.
Unleashing the Thrill of Vegas Strip Blackjack
Vegas Strip Blackjack, a variation of the classic game, has become increasingly popular among blackjack enthusiasts worldwide. Compared to European Blackjack, this variant is more player-friendly and offers a unique gaming experience.
Generally, this game does not allow surrender. However, mastering the rules for both dealers and players can give you an edge over the house. Our Surrender One Hand Blackjack guide will show you how.
Minimum bets in Las Vegas casinos typically start at $5, making it one of the cheapest blackjack tables in Las Vegas strip.
Final Thoughts
Vegas Strip Blackjack offers a unique twist on the classic game, providing players with an exciting and challenging experience. By understanding the rules and strategies, you can increase your chances of success and make the most out of your gaming sessions. Join our casino now and put your newfound knowledge to the test by playing free online blackjack games.
Stay updated with our latest news and tips on Blackjack by following our social media channels!
More like this: