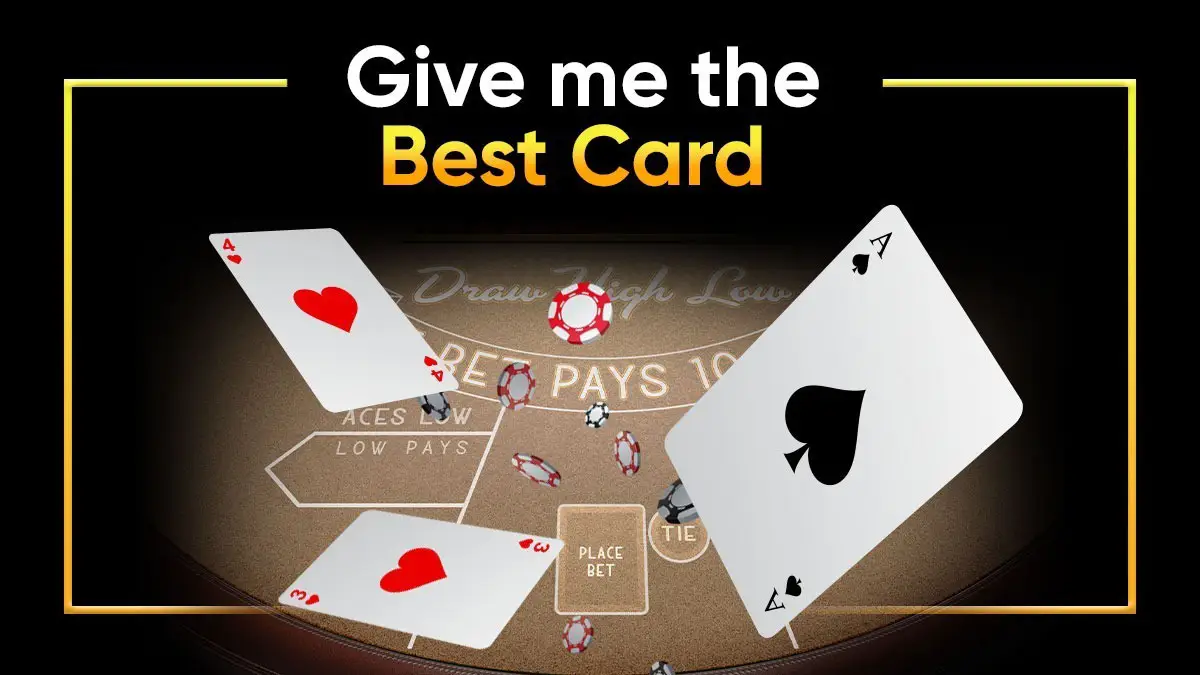 From Lucky Six Baccarat to Blackjack, Poker, and Pai Gow, card games are rapidly becoming popular in online casinos. These table games are famous for their fast speed and exciting rounds that can instantly change your financial status. Draw High Low game (or Hi-Lo) is one card game that offers all the thrills of online gaming in a package; all you need to do is make a reasonable guess about the outcome. In this casino news, we'll examine the Draw High-Low game and why you should play the game today.
Draw High Low Game: Reasons Why You Should Try It Today
The Draw High Low game is an exciting lightning-round card game where you guess whether the next card will be higher or lower than the previous card. A correct guess offers you a chance to continue playing or walk away with your winnings at any time. It is a thrilling game between you and a dealer or a random number generator (RNG).
A card is generated at random and placed on the table face-up. You look at it and guess if the next randomly drawn card will be higher or lower. Let's say 7 is the first card drawn, 8, 9, 10, J, Q, and K are the higher cards, while 6, 5, 4, 3, 2, and A fall under the Lower category in this instance.
Why You Should Play Draw High-Low Game
Several reasons grant the game a "must-play" one:
Easy to Understand
Even beginners will quickly understand the gameplay of the Draw High Low game. You place a wager before the round begins and get three cards dealt face-up before you. A fourth card is placed faced-down at the end, and the aim is to guess whether the value of the fourth card is higher or lower than the one chosen from the face-up cards. The round ends after three guesses, and your winnings or losses are summed up accordingly.
We advise you to place the minimum wager when playing for the first time until you become more confident.
Low Stake and High RTP
Return to Player (RTP) is the percentage of money wagered by all bettors that will be repaid in winning over the long run. Draw High Low game is a low-risk, high-reward game with an RTP rate ranging from 96% to 98%. This means you get 96-98 cents for every dollar earned on winning bets. Draw Hi Lo is also ideal for both low-risk and high-risk bettors. The game has a wide range of betting limits to suit everyone's style of play. Everyone has equal chances at winning, as long as you gamble responsibly.
Game Variety
When playing online table games like this one, you may find several RNG and live dealer versions. Some versions of the game even allow you to change the base card. Other live versions use a real dealer in the live casino while offering various betting and cash-out options.
Available on Various Devices:
Online casinos are quickly displacing traditional brick-and-mortar casinos as you can easily wager on games like the Draw High Low game and other games like the Pontoon game from the comfort of your home. Draw Hi Lo is popular on casino sites and mobile apps (if the casino has one). You can savor the game experience on your mobile, tablet, and desktop devices.
We recommend you play the Draw High Low game on a trusted and licensed online casino like Vegas Aces Casino. Asides from the high 97% RTP, you get 24/7 access to mobile and desktop gaming, and other bonus offers when you play with Betsoft.
Final Thoughts
Draw High Low game by Betsoft is one of the easiest card games in online casinos, as its gameplay is straightforward. The game is easy to learn and challenging to master. A few rounds are all you need to understand the game's operations and win real money. However, we advise that you gamble responsibly: develop gambling strategies and financial management to enjoy Draw High Low and other exciting casino table games at Vegas Aces Casino.
Get the latest casino news by joining our exclusive community on Vegas Aces Casino's social media, and tag someone who needs to see this!
More like this: