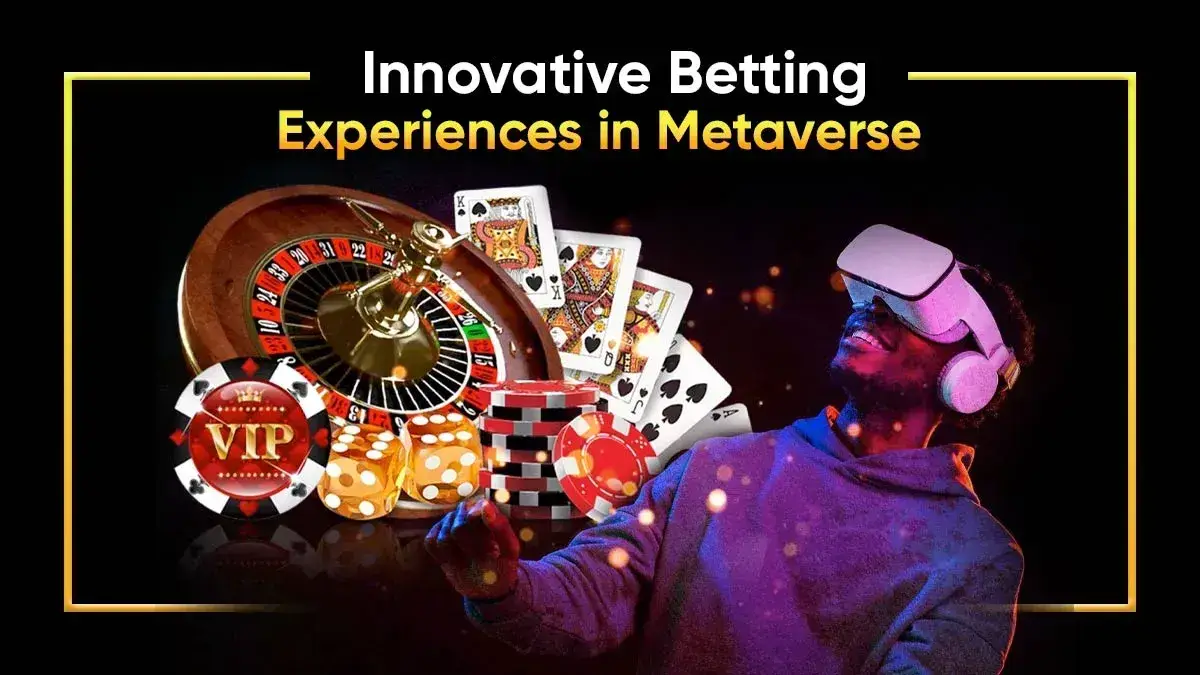 Whenever you think this is the ultimate experience in online gaming, has to know that a new concept is infused! Online gambling has found its place in the Metaverse. Experience the future of gambling as virtual games in the Metaverse offer the chance to hit the jackpot.
In 2021, Mark Zuckerberg, the Chief Executive Officer of Facebook, shook things up following his laid-down scheme of the metaverse. And since then, many companies have tried to discover and unearth new things about the Metaverse.
What does the vast metaverse truly encompass and how does it intertwine with the concept of gambling? We will examine metaverse gambling and how it functions in this casino news.
Let's get started.
Metaverse Gambling: Unveiling the Virtual Winnings into Real Life
For years, Metaverse has been establishing its footing. However, it did not appear in the spotlight before Mark Zuckerberg's participation.
The Metaverse is an extension of reality, accessed through Augmented Reality (AR) and Virtual Reality (VR) using the right gadgets. In other words, the Metaverse is a network space where individuals can engage in gaming and other activities in a 3D environment, sometimes in chat rooms, video games, and more. Other activities that could be carried out include transactions for goods and exchange of services, ownership of virtual real estate, and many more.
Having clearly understood what the Metaverse stands for, one might be asked about its stance on online gambling. This new gambling concept assumes the ideal metaverse casino form or improved betting activities by marketing it into the newness of virtual reality. Metaverse gambling simulates real-life gaming experiences using electronic gadgets and other virtual reality tools.
Metaverse Gambling in Synchronization with Virtual Reality Games
Virtual Reality casino games have been an age-long concept in the online gaming industry. And juxtaposing it with VR gaming, one would see very little or no distinction between both concepts. Their objectives are set to make profits and provide an unrivaled gaming experience. They run in a simulated environment that creates room for players' and couriers' interaction and many more. The only difference that tends to separate both concepts is that while the latter is perceived as a leadoff of the former, the former provides a more satisfying virtual experience for online gamblers.
With the casino metaverse in place, the VR casino takes a whole new shape. You can win some money and walk away whenever it pleases you, owing to the availability of your VR gadgets without hassle. However, some terms and conditions must be met.
Decentralized Gambling Welcomes the Idea of Metaverse Gambling
Most times, the thoughts that often envelope people when the notion of metaverse gambling is taken into cognizance is the list of online casino real money games held at the metaverse. This includes games like Sic Bo Macau, under the archetype of dice games, etc. But guess what? It's beyond that!
The idea behind decentralized gambling is all-encompassing. It cuts across blockchain technology, crypto gambling, a-rated security measure and privacy, and more. All of these features have their place in metaverse gambling. Players who find cheating exciting may, in turn, have their retirement severed from online gambling or turn a new leaf following the advent of metaverse gaming activities.
Look for online casino reviews to find the best option for you to start trying this new concept, and become a part of this exciting new metaverse world!
Final Thoughts
Metaverse gambling fusion of players' emotions into gaming activities and providing a high-quality playing experience is satisfying! The level of transparency embedded in the metaverse is also next to none. It is not open to experts only. Beginners still learning from casino guides like our Roulette Guide can also participate in this type of gambling. The metaverse has shifted things for good. Having seen how fast and thriving metaverse gambling has settled, its complete domination in the gambling industry shouldn't shock many in no distant times.
If you liked this casino news, keep your eyes peeled on Vegas Aces Casino for additional gaming content, and try new games like the Inferno Slot for added excitement to this unique gambling experience.
Gain access to exclusive behind-the-scenes content and sneak peeks by following us on social media and sharing this with your friends!
More like this: