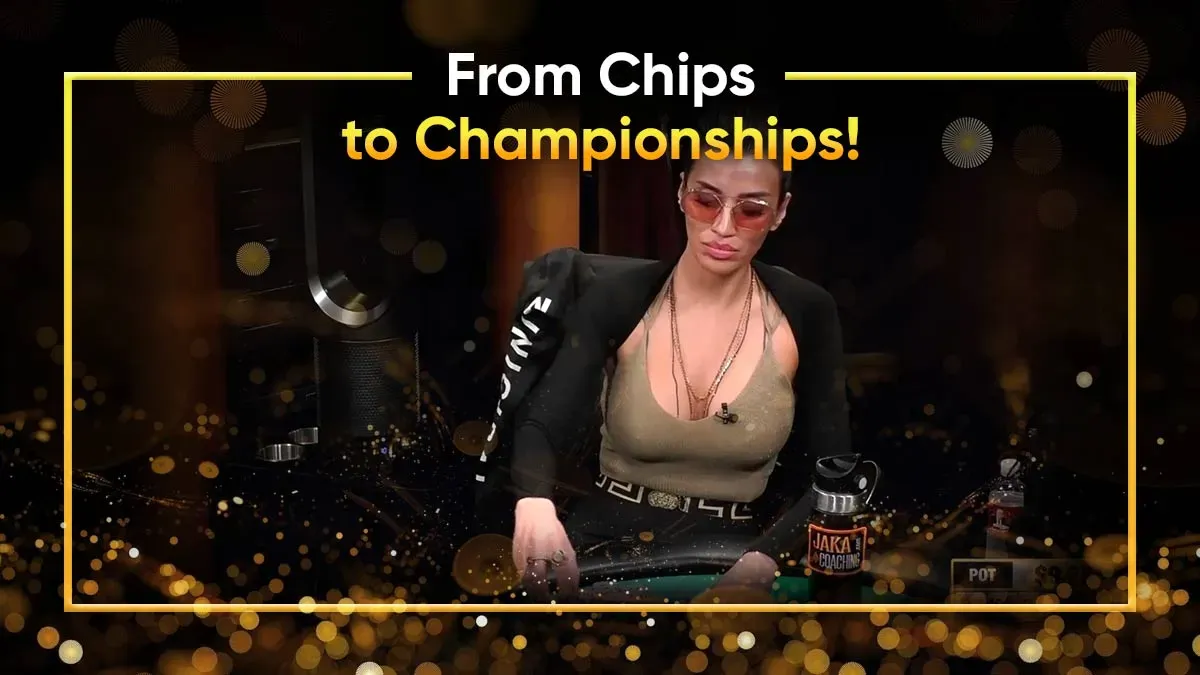 Poker casino games are an iconic classic that has dramatically influenced the world of offline and online gambling. It has brought big event winners to stardom, making them instant celebrities. Such is the story of poker player Robbi Jade Lew. Today we will cover Robbi Poker's path in the poker world.
Robbi Jade Lew has made a name for herself in poker. She stepped into the poker world fully in 2020. Since then, she has had her fair share of wins, scandals, and fame and is still one to reckon with in poker today. This casino news looks into Robbi's poker career so far.
Robbi Poker Era: Lew's Remarkable Journey in the World of Poker
Just before the pandemic hit, Robbi was an employee in the pharmaceutical industry. Everything changed when the COVID-19 incident forced everyone to stay home, picking up new interests. She began playing free Poker online again after stopping ten years ago, changing to real money games later.
Although she participated in the Rio Daily Deep Stack Series 2021, Las Vegas, her first real poker success occurred in 2022. She stayed consistent, playing online casino real money games in different competitions until a scandal in late 2022. She was accused of cheating. There was no evidence, and the case died down.
Now she is currently taking part in different tournaments in the US. Her latest win occurred in the $ 1,000 No Limit Hold'em – Super Turbo (Bracelet Event 95) at the 54th World Series of Poker – WSOP 2023, Las Vegas. She finished 54th place and won $5,028. Below is an in-depth look into her professional career.
Lew's Professional Poker Career
Robbi's poker interest started at the beginning of her marriage when she read the book "Poker Is for Dummies" and was introduced to basic poker terminology. Soon enough she was learning all about things like betting limits in poker, bluffing, and more. She took up the fundamentals of the game from her husband. Although she did not initially find success, monetary transactions were attributed to her as early as 2010.
Her poker career officially began in October 2021 when Robbi participated in a few tournaments in Las Vegas. Here, she played Texas hold'em games since Casino Hold em (Hold'em) games aren't played in tournaments.
Robbi Poker 2022 Tournaments Wins
In March 2022, Lew competed in another $400 NLHE Double-Stack Event, placing 10th. In June of that same year, Robbi's poker career added another star to her badge. She placed third in a $100 NLHE Event hosted by the MGM Grand Summer Series.
Robbi made the money in four events at the 53rd World Series of Poker in June and July 2022.
She started with a $3,000 NLHE and placed 85th, winning $6,962. Second place, finishing in the money in the $5,000 NLHE 6-handed event, earning $10,066. Finally, she won $15,000 in the $10,000 NLHE Main Event and $2,165 in the $1,000 NLHE Mini-Main Event.
She also made her first World Series of Poker appearance in the $1,000 NLHE Double-Stack Event on October 22, where she placed 276th and won $2,463. In the last two days of October, she entered and placed 16th and 2nd in separate $150 NLHE tournaments. Soon after, on November 11, Robbi returned to the WSOP and cashed in the $888 NLHE 8-Handed Crazy Eights Event for $1,882, capping off a successful start to her poker year.
Lew has been observed at numerous events this summer, where she performed, recorded a VLOG, and tweeted numerous photos of her hands. In reality, Robbi has been offering a 0.95 discount off the buy-in price of her action so that her supporters can sweat for a small freeroll.
Robbi is making strides in the right direction as a poker pro, having cashed four World Series of Poker events in 2023 and several other Vegas side events. To do so, she enlisted the help of Faraz Jaka, a poker coach, and a successful tournament player, who has worked with her to better her poker and mental game.
Robbi Poker Today
Even though Robbi has participated in several poker tournaments, which you can read in multiple online casino reviews, she is typically observed at cash games. Robbi Jade Lew has been seen in Las Vegas, participating in several poker tournaments to pursue her first significant tournament cash. Although she is not the best poker player in the world, she is well on her way.
Final Thoughts
Robbi's life outside of poker is just as glamorous and lavish as she and her husband continue to travel the world. Her story shows you can also become a good player at poker. Pick up a poker game like the Mississippi Stud Online and begin practicing.
If you wish to reach the poker level expertise as Robbi, and other prominent poker experts, make sure to follow our online casino guides and learn all you need to know to start dominating the poker tables.
Stay connected and join our social media community for exclusive updates and insights!
More like this: