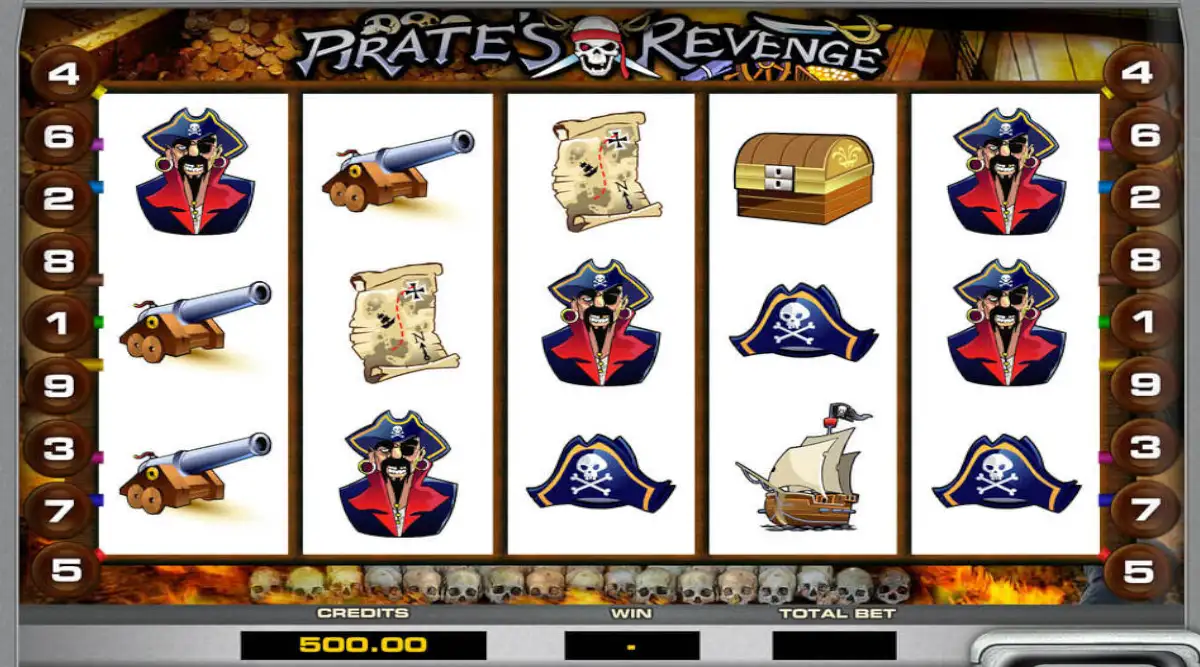 Embark on an unforgettable pirate adventure with Pirates' Revenge slots, one of the most thrilling and engaging slot games for casino enthusiasts. This easy-to-play game offers an exciting opportunity to win big while enjoying a swashbuckling theme. Created by Digital Gaming Solutions, Pirates' Revenge takes you on a high-seas journey, where you'll match symbols on the reels to form winning combinations. Don't miss out on the chance to plunder riches and join the ranks of the best online casino with our Pirates Revenge strategies.
Read today's casino news to discover the best strategies and tips for this fantastic game!
Pirates Revenge Strategies: A Deep Dive into the Slots Seas
Pirates' Revenge offers various strategies to maximize your chances of winning. By understanding the game's rules and mechanics, you can harness your inner pirate and sail toward victory.
Play with the Minimum Value
Adjust your bet amount to prolong your gameplay and increase your chances of winning. With a betting range of 0.5 to 1 coin, it's advisable to play with 0.1% of your bankroll. By wagering the minimum value, you'll also qualify for the Progressive jackpot, giving you a shot at even greater rewards.
Know the Rules and Target High-Paying Symbols
Familiarize yourself with the Pirates' Revenge rules to better understand the game's dynamics. Target high-paying symbols by substituting the pirate log with other symbols, except for the scatter symbol – the pirate ship wheel. Use the scatter symbol to earn bonuses by shooting at least three consecutive pirate ships.
Make the Most of Pirate's Revenge Bonuses
Slot casino games are notorious for their attractive bonuses, and Pirates' Revenge is no exception. Capitalize on these bonuses by targeting and shooting other pirate ships, thereby increasing your winnings. During the bonus round, the screen will display several ships for you to shoot at, with three of them listed.
Decrease the Number of Winning Lines
Pirates' Revenge features nine paylines, and by reducing the number of winning lines, you can lower the game's volatility. Playing with one instead of ten paylines can increase the volatility between one to ten times higher. A higher volatility means more frequent payouts, albeit smaller amounts. However, a combination of more wins than losses can result in a profit.
Bet Big for Bigger Rewards
Pirates' Revenge strategies often involve betting big, as larger risks can lead to higher potential winnings. The game's RTP ensures that players will consistently lose when playing Pirates' Revenge. However, after a long losing streak, the machine is expected to pay a high amount during a winning streak. For similar slots, try the Safari slot, Blood Eternal slot, Spinfinity Man, The Glam Life slot, Moon Bitten slot, and Super Sweets slot.
Unraveling the Mystery of the Online Slots
So, how do online slots work? Online slots, including Pirates' Revenge, use random number generators (RNGs) to determine the outcome of each spin. This ensures that each spin is independent of the previous one and that the results are entirely random. By employing the strategies mentioned above, you can improve your chances of winning and enhance your overall gaming experience.
If you're looking for a new slot game adventure, consider trying out the Zodiac game or Catsino slot games. Both games offer exciting gameplay, engaging themes, and the potential for significant winnings.
Champs Elysees slot game takes you on a journey through the streets of Paris, offering a unique and immersive gaming experience. With 5 reels and 50 paylines, this game features various symbols such as the Eiffel Tower, croissants, and champagne glasses, and offers the chance to win free spins, multipliers, and a jackpot.
On the other hand, the Catsino slot game is another entertaining option, where you can join a group of feline casino enthusiasts on their quest for big payouts. With 5 reels and 50 paylines, this game offers a variety of cat-themed symbols, including whiskers, balls of yarn, and mice, along with bonuses, free spins, and a progressive jackpot.
Safe Online Casinos: Protect Your Money While Having Fun
Online casinos have become increasingly popular, with thousands of players worldwide seeking the excitement and thrill of gambling from the comfort of their own homes. However, it's important to remember that not all online casinos are created equal. It's essential to choose safe online casinos that offer fair games and guarantee the security of your funds and personal information.
Before depositing your money, make sure to research the casino's reputation and read online casino reviews from other players. Check if they hold a valid gambling license and if their games are regularly audited by reputable third-party organizations. Also, make sure to read the casino's terms and conditions to understand their policies on withdrawals, bonuses, and promotions.
Final Thoughts
Pirates Revenge slot offers an exhilarating gaming experience for slot players, complete with engaging themes, enticing bonuses, and the potential for significant winnings. By understanding the game's rules and employing the strategies outlined above, you can improve your chances
Try out free slot games at Vegas Aces Casino today, and become a winner of many prizes. Follow us on social media for more content like this.
More like this: