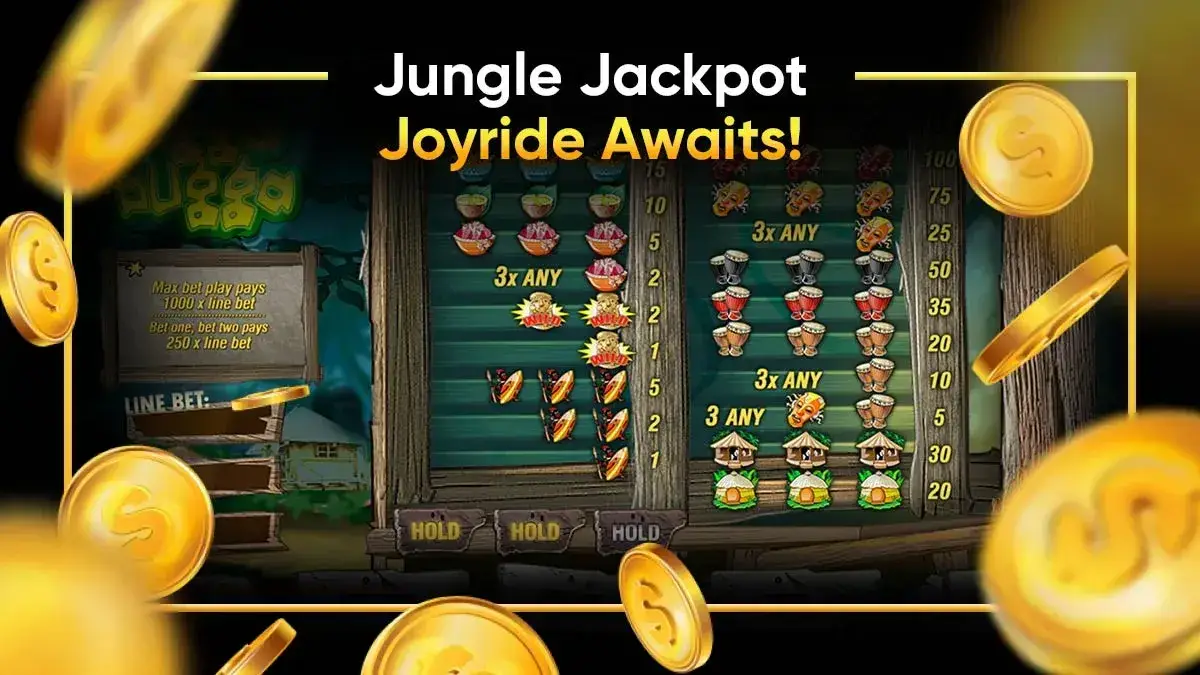 The Ugga Bugga Slot machine, a slot game with tribal artifacts in an alluring jungle, is perfect for trying something different in the game of the chance world. The slot game by Playtech has an innovative multi-spin function and a high Return To Player percentage. It features ten rows and three symbols that spin independently to give you ten winning chances. Players can win large quickly by matching three of the same symbols in one of the reels.
Although it doesn't feature a jackpot like in the Inferno Slot, there are other exciting winning chances, like having 1000x your bet. A hold feature also lets you have one slot machine symbol pinned on a reel for a big winning chance. This feature has made the Ugga Bugga Slot Machine a fan-favorite in online casinos. In today's casino news, we will take a look at what this slot has to offer.
Ugga Bugga Slot Machine: A Playtech's Innovative Slot
Playtech, a leading online casino software provider and creator of multiple successful online casino games, has produced 3-reel slot machines with unique new features. The Ugga Bugga was one of their innovative ideas. It was released in 2013 and has held players spellbound ever since. The exciting thing about this game is how much control Playtech injected into it.
Casino gambling slots are usually all luck. However, Ugga Bugga's hold feature allows players to decide how the game goes. Players can now strategize using the feature and how best to spin for more wins.
The Story Ugga Bugga Tells
Like the Viking Victory Slot, which tells a story, the Ugga Bugga slot machine has a tale, though not so obvious. The soundtrack shows this slot machine is about an African community with a rich culture. The drum symbols further depict a community of happy men, women, and children dancing, singing, and enjoying the bliss of being alive.
If you've ever been to a typical African village, you'll feel euphoria listening to the music. The symbols show their lifestyle. They live in huts of dried-out woods, palm leaves, grass, etc. The scatter showcases the attire of their warriors. It depicts that they have brave men who hunt to put food on the table.
The Wild in this game is a sculpture of a wooden idol, showing how they are not godless people. They worship a god to whom they owe their existence. Overall, Ugga Bugga has an immersive gameplay and settings worth playing.
Ugga Bugga Captivating Setting
The Ugga Bugga Slot Machine has a jungle theme, colorful graphics, and a unique atmosphere contributing to its engaging experience. The gameplay occurs in a beautiful forest with birds singing away the jungle blossoms. The green backdrop is mostly shadows of forest vines intertwined with patches of green leaves in front.
The reels are made of bamboo and have several symbols depicting the African safari atmosphere. Masks, drums, huts, and foods of different colors make up the symbols in this game. It also has its scatter symbols and a wild idol to accompany it.
This high volatility game with an RTP of 99.07 seems unreal. It also has a max prize of 1000 coins per line, which gives a chance to win over 10,000 coins overall.
Ugga Bugga Slot Machine Features
Whether is a free online slot or the real money version of a game, every online slot game has specific features. Below are those of Ugga Bugga.
Expandable Wilds
In Ugga Bugga, the tiki idol serves as the game's Wild. This is a one-of-a-kind holding wild that can grow to cover additional paylines. Having two wilds on the first spin virtually guarantees several payouts. Only when a partial slot machine symbol appears on reel three does the payoff from two wilds come in handy. This Wild gives the game a multi-spin feature that lets you plan out your gameplay in advance and improve your odds of winning combos.
Warrior Scatter Symbol
The Ugga Bugga scatter represents the warrior or tribal man. With the Ugga Bugga scatter symbol, you can win as often as you get at least one sign in a pay line segment. This scatter pays out regardless of where it lands on the reels, unlike most scatters that initiate bonus rounds.
Inclusive Betting Range
One other notable feature of this slot is its wide betting range. All players, from small penny slot enthusiasts to big rollers, can find an appropriate betting range on the Ugga Bugga. Bets can be as little as $0.01 each spin and as much as $100 per spin, giving gamers of all budgets a chance to participate.
Learn how to play slot machines smartly by visiting our online casino guides.
Final Thoughts
Ugga Bugga online slot machine is one of the few African safari-themed slots that fuse unique gameplay and top-notch graphics. It doesn't compromise with its delivery and gives the feeling of playing at a table game strategizing. Although just as entertaining as a Pop Slot, Ugga Bugga pays out real money and a chance to win big.
Make every spin a success: Delve into our online casino reviews for an insider's look into the most rewarding titles, so you can find your favorite.
Join our social media family to access premium updates on online casinos, gambling strategies, and exciting industry news.
More like this: